Choose language
Månedens utvalgte bil oktober 2007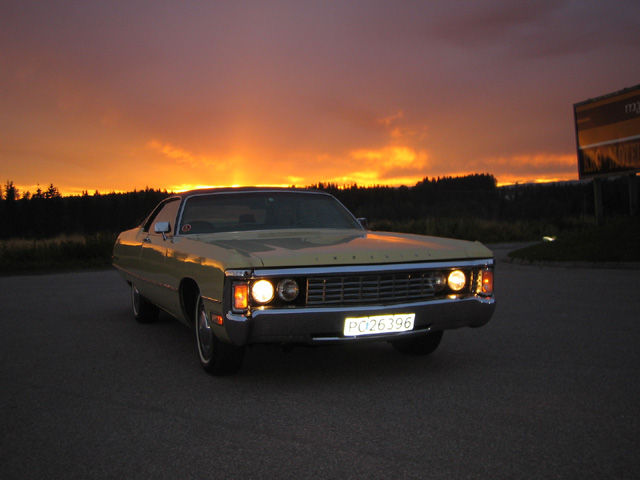 1971 Imperial Le Baron
Året 1971 blir husket av ulike årsaker hos forskjellige mennesker. Richard Nixon var president i USA og under hans ledelse skjedde The Christmas Bombings, de mest massive bombingene av Nord-Vietnam under denne krigen. I 1971 ble en 20 års handelsblokade mellom USA og Kina opphevet. Fornøyelsesparken Disney World i Florida åpnet også dette året. 1971 blir også husket av mange moparinteresserte, filmen Vanishing Point hektet mangt et guttehjerte med en av filmhistoriens mest uvanlige biljakter. Og på Indianapolis ble en Dodge Challenger convertible kjørt som Official Pace Car og var innblandet i en stygg ulykke her. 1971 blir også regnet som slutten av muskelbilepoken i USA, det siste året du kunne bestille en 426 HEMI i en relativt sett ordinær gatebil.

Fullsize linjen fra Chrysler i årene 1969-71 hadde et av tidenes nydeligste design med sporty karosserilinjer, den såkalte Fuselage stylingen. Særlig to-dørs utgavene skinte av aerodynamikk og var overlegen samtidige konkurrenter fra Lincoln og Cadillac. Bilene var brede og lange og karosserisidene trekt opp mot bilens øvre flater, lignende dagens Chrysler 300 C sitt design. Imperial for 1971 ble levert standard med 440 V8 oppgitt til 335 hk. Basispris i utsalg tilbake i 1971 var USD 6.044 og det ble lagd 1.442 todørs utgaver.

Hugo Normann fra Romedal eier en fin Imperial Le Baron fra 1971. Den tilhørte tidligere et annet medlem i klubben på Sørlandet, Rolf Skog, men var innom en bilforhandler i mellomtiden. Hugo hadde en annen Imperial, en godt vedlikeholdt firedørs 70-modell, som han byttet inn mot denne. Hugo liker ikke å selge biler, men mener han kom godt ut av byttehandelen og har vært veldig fornøyd med første sommeren i denne. Bilen kom til Norge rundt tusenårsskiftet og har siden da vært i gode hender. Rolf Skog sørget for ettersyn og en opplakkering i original farge i årene han hadde den. Interiøret ser nesten ubrukt ut og er en nytelse å sette seg inn i. Fargene er nydelig avstemt mot imiterte trepaneler i dashbordet, og Imperiallogoen er preget inn i setene. Utstyr som klimaanlegg, automatgear, automatisk fartsholder og automatisk hovedlysdimmer er naturligvis på plass i en slik bil. At seteinnstillinger, vindusheisere og dørlåser er elektriske behøver vel ikke å nevnes. En interessant detalj for å vise hvor tidlig ute bilindustrien i USA var med nye løsninger, er blokkeringsfrie bremser. Dette var tilvalg for første gang i 1971, og kun på top-of-the-line biler. Hugo sin bil kommer imidlertid fra California og der var nok ikke slike løsninger like salgbare som i vinterligere strøk.

Nyhetskanalen CNN publiserte nylig en liste over de 50 verste bilene opp gjennom årene. 1971 Imperial Lebaron havnet utolig nok på denne lista og vi er ikke verre enn at vi gjengir hva de skrev om denne;
The glamorous Imperial marque was, by the late '60s, reduced to a trashy, pseudo-luxury harlot walking the streets for its pimp, the Chrysler Corporation. By 1971, only the Imperial LeBaron was left and it shared the monstrous slab-sided "fuselage" styling of corporate siblings like the Chrysler New Yorker and the Dodge Monaco. Appearing to have been hewn from solid blocks of mediocrity, the Imperial LeBaron two-door is memorable for having some of the longest fenders in history. It was powered by Chrysler's silly-big 440-cu.-in. V8 and measured over 19 ft. long. The interior looked like a third-world casino. Here we are approaching the nadir of American car building — obese, under-engineered, horribly ugly. Or, it would be the nadir, except for the abysmal 1980 Chrysler Imperial, which had an engine cursed by God. The Imperial name was finally overthrown in 1983.
Webmaster kommenterer gjerne denne og sier for egen del at bil skal velges med hjertet foran hjernen. Hugo har også skjønnt dette!
Tidligere Månedens bil
År 2016
Modell
Bil
Mars
1977
Plymouth Volare Road Runner
Januar
1970
Plymouth 'Cuda
År 2015
Modell
Bil
Desember
1969
Dodge Dart Swinger
September
1973
Dodge Polara Custom
Juni
1967
Chrysler 300
April
1971
Plymouth 'Cuda convertible
Mars
1965
Dodge Dart GT
Februar
1977
Chrysler Cordoba
Januar
1957
Imperial Crown
År 2014
Modell
Bil
Desember
1970
Dodge Coronet 440
November
1933
Plymouth Two Door Sedan
August
1969
Plymouth Road Runner
Juli
1929
Chrysler Serie 65 Roadster
Juni
1959
Chrysler 300 E
Mai
1977
Chrysler New Yorker Town & Country
April
1961
Chrysler 300 G
Mars
1968
Dodge Charger
Februar
1970
Plymouth 'Cuda
Januar
1972
Plymouth Duster
År 2013
Modell
Bil
Desember
1968
Dodge Dart convertible
November
1964
Imperial Crown convertible
Oktober
1971
Plymouth Road Runner
September
1971
Plymouth 'Cuda
August
1957
Dodge Custom Royal Lancer
April
1960
Valiant V200
Mars
1968
Chrysler 300
Februar
1970
Dodge Challenger
Januar
1965
Imperial Crown
År 2012
Modell
Bil
Desember
1970
Plymouth 'Cuda
November
1971
Plymouth Road Runner
Oktober
1976
Chrysler New Yorker Brougham
September
1969
Dodge Coronet Super Bee
August
1975
Imperial LeBaron
Juli
1999
Plymouth Prowler
Juni
1969
Plymouth Sport Fury convertible
Mai
1960
Chrysler 300F
April
1966
Dodge W300
Mars
1971
Plymouth 'Cuda
Februar
1968
Dodge Dart GTS convertible
Januar
1970
Imperial LeBaron
År 2011
Modell
Bil
Desember
1967
Dodge Coronet 500
November
1960
Dodge Polara
Oktober
1984
Dodge Ramcharger
September
1967
Imperial LeBaron
August
1967
Plymouth Barracuda convertible
Juli
1973
Plymouth Road Runner
Juni
1970
Dodge Charger 500
Mai
1970
Plymouth 'Cuda
April
1990
Dodge Ram B250
Mars
1969
Chrysler 300
Februar
1958
Dodge Coronet
Januar
1961
Chrysler New Yorker
År 2010
Modell
Bil
Desember
1978
Dodge Aspen SE
November
1970
Dodge Coronet 440
Oktober
1990
JEEP Grand Wagoneer
September
1987
Chrysler Fifth Avenue
August
1970
Dodge Challenger R/T convertible
Juli
1971
Dodge Charger R/T
Juni
1966
Chrysler 300
Mai
1967
Plymouth Belvedere GTX
April
1940
DeSoto Business Coupe
Mars
1971
Dodge Dart
Februar
1979
Chrysler New Yorker Fifth Avenue Edition
Januar
1966
Dodge Dart GT
År 2009
Modell
Bil
Desember
1960
Plymouth Fury
November
1981
Dodge Ram 150
Oktober
1972
Dodge Charger
September
1986
Dodge Diplomat SE
August
1971
Plymouth Duster
Juli
1965
Chrysler Newport Town Sedan
Juni
1978
Plymouth Volarč Super Coupe
Mai
1971
Dodge Challenger convertible
April
1972
Plymouth 'Cuda
Mars
1936
Chrysler Airflow C9
Februar
1970
Chrysler 300 Hurst
Januar
1972
Plymouth Scamp
År 2008
Modell
Bil
Desember
1968
Chrysler New Yorker
November
1977
Chrysler New Yorker Brougham
Oktober
1957
Plymouth Belvedere Sport Coupe
September
1997
Dodge Viper GTS
August
1959
DeSoto Firesweep
Juli
1970
Dodge Dart GT
Juni
1970
Dodge Charger 500
Mai
1961
Chrysler 300 G
April
1968
Dodge D-100
Mars
1955
Dodge Custom Royal Lancer
Februar
1957
Plymouth Belvedere convertible
Januar
1969
Dodge Dart GT
År 2007
Modell
Bil
Desember
2005
Dodge Ram SRT-10
November
1958
Imperial Crown
Oktober
1971
Imperial Le Baron
September
1988
Chrysler Le Baron convertible
Juli
1965
Imperial Crown
Juni
1968
Chrysler 300 convertible
Mai
1974
Dodge Challenger
April
1970
Plymouth Barracuda
Mars
1955
Chrysler New Yorker St. Regis
Februar
1966
Dodge Charger
Januar
1971
Dodge Challenger R/T
År 2006
Modell
Bil
Desember
1957
DeSoto Firedome Sportsman
November
1957
Chrysler 300 C
Oktober
1989
Dodge Ram D-150 LE
September
1974
Imperial LeBaron
August
1968
Dodge Monaco
Juli
1968
Plymouth Barracuda
Juni
1967
Dodge Coronet R/T convertible
Mai
1976
Plymouth Valiant Custom
April
1967
Chrysler 300 Convertible
Mars
1970 1/2
Dodge Challenger T/A
Februar
1969 1/2
Dodge Super Bee Six Pack
Januar
1957
Chrysler New Yorker
År 2005
Modell
Bil
Desember
1958
DeSoto Firedome Convertible
November
1968
Dodge Dart GT
Oktober
1971
Dodge Demon
September
1957
Plymouth Belvedere Special Club Coupe
August
1971
Dodge Charger R/T
Juli
1934
Strømmen Dodge
Juni
1969
Dodge Dart GT
Mai
1975
Chrysler New Yorker Brougham
April
1970
Plymouth GTX
Mars
1961
Chrysler Newport Convertible Coupe
Februar
1962
Imperial LeBaron
Januar
1970
Dodge Charger R/T